While bulimia and binge-drinking are some fairly well-known disorders, the fact that it's pretty common for both to occur at the same time isn't as well known.
While there are only theories about why this is, many of them examine the chemical imbalances that occur in the brain due to malnutrition or dependence on alcohol.
But first, what, exactly, is bulimia?
Bulimia is the tendency for someone to binge-eat a lot of food and then try to vomit it back up or defecate the calories out using laxatives.
Some symptoms include eating large amounts of food then purging it shortly after, feeling scared or anxious about putting on weight, or being hyper-critical of their body.
Unfortunately, bulimia can be very hard to spot. According to Bulimia Help, binge-eating then purging can actually cause weight gain.
Common misconceptions about eating disorders provoke images of skeletal or extremely underweight people, not someone who's slightly overweight. This is one of the many reasons why bulimia is actually a very dangerous eating disorder.
People with bulimia tend to develop addictions to substances like drugs or alcohol to either help them lose weight or to numb any negative thoughts in their minds.
Binge-eating and purging in themselves are also ways to distract an individual from reality. This is one of the main distinctions between bulimia and anorexia nervosa, another common eating disorder that entails depriving or limiting the body to most foods.
Binge-drinking, according to the NHS, constitutes consuming a large quantity of alcohol within a short space of time, or, specifically drinking to get drunk.
The Office of National Statistics  (ONS) states that 'binge-drinking' for men means having over 8 units in one session, and more than 6 units in a single session for women.
Binge-drinking itself can lead to a variety of health issues but when combined with the physical risks of bulimia, the result can be extremely serious.
People with bulimia may pick up a drink or two to aid in their escapism. However, various factors including age, weight, and the speed a person drinks means that "binge-drinking" is a hard term to define.
Sometimes those suffering from bulimia will substitute food for alcohol or enforce strict boundaries on themselves to compensate for their binging episodes. The main aspects which link bulimia and binge-drinking are impulsivity.
An individual suffering from bulimia is often enslaved to impulsive behaviours such as binge-eating, ingesting abnormally large quantities of food and subsequently succumbing quickly to purging episodes.
This impulsive behaviour then can then transpire to other objects (such as shoplifting, compulsive exercising, risky sexual behaviours, or substance abuse.
It is not uncommon for someone living with bulimia to trade the 'thing' that they binge with: i.e. trading food-binging episodes to alcohol binging episodes.
Unlike bulimia, binge-eating disorder sees someone engage in binge-eating episodes, but the person doesn't feel a compulsory need to micromanage their weight.
Like people with bulimia, binge-eaters will frequently binge-eat and drink.
Unfortunately, binge-eaters will most likely have to consume higher amounts of alcohol due to having a higher than average weight, further contributing to developing a drinking problem.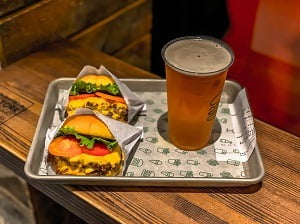 According to healthfully.com, alcohol can actually make you feel hungrier. When someone becomes drunk, they tend to consume more food and are more likely to binge-eat than someone who doesn't consume any alcoholic drinks.
A study done by the Indiana School of Health and Medicine found that most of the participants consumed more food after consuming alcohol and over 15% ate a lot more than normal.
In fact, a different study found that consuming a few glasses of wine can cause you to consume over 3 times the recommended daily calories over the subsequent 24 hours.
This is largely to do with the chemicals in alcoholic drinks transitioning your brain into 'starvation mode.' When intoxicated with drink, the neurons (Called AgPR) at the front of the brain associated with hunger go into over-drive
When people with bulimia consume a lot of alcohol, they are increasing the amount of food they consume and are more likely to feel incredibly guilty after their eating binge.
Several studies have found that having bulimia puts a person at a higher risk of becoming a binge-drinker. Both disorders have similar symptoms such as stress and anxiety.
Research has also suggested some reasons someone develops an addiction to alcohol are similar to the reasons someone becomes bulimic.
Having a propensity to become addicted to substances is a common cause in both. The feelings of guilt and shame associated with binge-eating could also cause someone to attempt to numb themselves with alcohol.
A depression diagnosis associated with either bulimia or alcoholism increases the chance of developing the other disorder.
According to Professor Mark Brodie, an expert in physiology and biophysics, bulimia (binge-eating) and binge-drinking tendencies revolve around the release of dopamine in the brain. In order to produce more dopamine in the brain, more substance (food or alcohol) is required.
Listed below are some common causes of turning from bulimia to binge-drinking, or even vice versa. These feelings or reasons are natural in relation to these disorders:
Often called 'drunkorexia,' is the tendency for some anorexics to refuse eating food, so they can consume alcohol without gaining any weight.
This disorder is somewhat common among college women despite the fact that both men and people who aren't in college can develop this eating disorder.
While the amount of alcohol being consumed by drunkorexia might reach the required daily amount of calories, alcohol has absolutely no nutrition to it so malnutrition is inevitable.
In college, there is this common saying of "freshmen 15" where it's somewhat common for women to gain about 15 pounds during their first year of college.
There is also the high pressure of drinking and partying all while staying thin. These unfair standards can cause women to choose alcohol over food and create some serious long-term damage to their bodies.
When someone first starts replacing their meals with alcohol, it might not be all that noticeable since it's common to not lose a lot of weight. Unfortunately, it doesn't take long for drunkorexia to really start harming someone's body.
If someone frequently engages in binge-drinking, but you never see them consume any food, they may have drunkorexia.
If you're not quite sure if someone is binge drinking, watch and see if they're having trouble staying awake, whether they're vomiting, or if their breathing is irregular. If so, they need to receive help right away as they are at serious risk of developing alcohol poisoning.
If someone has an eating disorder and is consuming copious amounts of alcohol at the same time, they are at a higher risk for a myriad of problems.
Some of the most serious problems associated with having an eating disorder and alcohol addiction are dehydration, anxiety, depression, and a weakened immune system.
Eating disorders can make current health problems even worse since the person isn't getting enough nutrients in their body. Heart problems and even a complete failure of the heart can occur as well as problems with your liver and kidneys and in the most extreme cases, death can occur.
Comorbidity is when two or more disorders occur at the same time. In this case, that would be developing alcoholism on top of an eating disorder. Co-occurrence does not necessarily refer to two disorders occurring at the same time.
There are many theories to explain the disproportionate development of both eating disorders and a binge-drinking disorder occurring in a person.
Some of them have been detailed in this article and the most common ones are that someone who is trying to micromanage their weight and someone who develops an alcohol addiction is both trying to treat undiagnosed clinical depression.
Self-medication is common among people with undiagnosed mental illnesses and people tend to do whatever will make them feel better. In some cases, it's binge-eating and then purging.
Below are 7 steps you can take in your life to help combat binge-drinking and bulimia. With the correct skills and support, you, or a loved one who is struggling with binge-drinking and bulimia, can find your first steps to recovery:
Drinking on an empty stomach is extremely dangerous. It is part of the reason bars are legally required to serve food.
Drinking without having eaten anything beforehand makes it easier to suffer from alcohol poisoning, blackouts due to heavy drinking, as well as memory loss.
Someone is more likely to become dehydrated much easier if they're already malnourished. Dehydration pulls out nutrients from the body and can thus exacerbate already serious malnutrition.
Binge drinking also creates an increased risk of developing alcohol addiction which can further the development of anorexia and make it much more serious than it already is.
Get in touch today
Call now on 0800 140 4690 for confidential and immediate advice on binge-drinking & bulimia today.